New Stock Update - Medals!
2020-07-24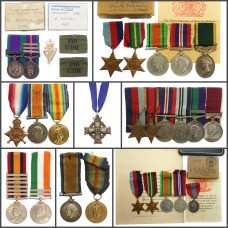 We apologise for the lack of updates on new stock recently. As you may have seen we have been listing a number of medals and badges on to the website but unfortunately we just haven't had the time to post the updates of what has been going on the site. We will be starting to post updates of new stock on here from now on so please keep your eyes peeled.

Here is a list of new medals that have been added to the site over the last few weeks.


MM-4388 WW1 British War & Victory Medal Pair - Pte. A.H. Giles, Rifle Brigade £40.00
MM-4389 WW1 British War & Victory Medal Pair - Pte. A.H. Woodrow, East Yorkshire Regiment - Wounded £45.00
MM-4390 WW1 British War & Victory Medal Pair - Cpl. J. Bowyer, Gloucestershire Regiment £42.00
MM-4391 WW1 1914-15 Star Medal Trio - Pte. L.E. Trussell, Royal Army Medical Corps £70.00
MM-4392 WW1 1914-15 Star Medal Trio - Pte. J.L. Harrison, Norfolk Regiment £85.00
MM-4393 WW1 1914-15 Star Medal Trio - Pte. J. Sabin, Royal Army Medical Corps £70.00
MM-4394 WW1 1914-15 Star Medal Trio - Pte. J.H. Mullingan, Manchester Regiment £95.00
MM-4396 WW2 Chindits Territorial Efficiency Medal Group of Six - Pte. G. Evans, 2nd Bn. King's Own (Royal Lancaster Regiment) £285.00
MM-4397 2012 Queen Elizabeth II Diamond Jubilee Medal in Box of Issue £50.00
MM-4398 WW1 British War & Victory Medal Pair - Pte. F. Jury, 17th (Rosebury's Bantams) Bn. Royal Scots £75.00
MM-4399 WW1 British War & Victory Medal Pair - Pte. F.C. Morton, Northumberland Fusiliers £42.00
MM-4400 WW1 British War & Victory Medal Pair - Pte. J.M. Lewis, The King's (Liverpool) Regiment £40.00
MM-4401 WW1 1914-15 Star Medal Trio - Dvr. H. Haxwell, Royal Field Artillery £70.00
MM-4402 WW1 1914-15 Star Medal Trio - Pte. R. Massey, Manchester Regiment £85.00
MM-4403 WW1 1914-15 Star Medal Trio - Dvr. J. Pollard, Royal Field Artillery £70.00
MM-4404 WW1 1914-15 Star Medal Trio - Pte. F.J. James, East Yorkshire Regiment £85.00
MM-4405 WW1 1914-15 Star Medal Trio - Pte. J. Dunlevy, Royal Warwickshire Regiment £85.00
MM-4406 WW2, General Service Medal (Clasp - Malaya) and LS&GC Medal Group of Six - Capt. (Q.G.O.) Deolal Gurung, Gurkha Engineers £245.00
MM-4407 WW2 Japanese Prisoner of War Territorial Efficiency Medal Group of Five - Gnr. F. Donnelley, 122nd Field Regt, Royal Artillery £295.00
MM-4410 WW1 British War & Victory Medal Pair - Pte. T.G. Mattocks, The Queen's (Royal West Surrey) Regiment £42.00
MM-4409 WW1 British War & Victory Medal Pair - Pte. S. Butler, Loyal North Lancashire Regiment £42.00
MM-4411 WW1 British War & Victory Medal Pair - Pte. H.G.T. Major, Durham Light Infantry £42.00
MM-4412 WW1 1914-15 Star Medal Trio - Sjt. G. Davies, Welsh Regiment £90.00
MM-4413 WW1 1914-15 Star Medal Trio - Dvr. E. Williams, Royal Field Artillery £70.00
MM-4414 WW1 1914-15 Star Medal Trio - Pte. G. Smith, Yorkshire Regiment £85.00
MM-4415 WW1 1914-15 Star Medal Trio - Pte. F. Morris, King's Royal Rifle Corps - Wounded £95.00
MM-4416 WW1 Canadian Memorial Cross - Pte. C. Tacey, 29th Bn. Canadian Infantry - Died of Wounds £150.00
MM-4417 Queen's South Africa (6 Clasps) and King's South Africa (2 Clasps) Medal Pair - Pte. E. Attreed, 1st Bn. Essex Regiment £310.00
MM-4418 Scarce 1962 General Service Medal (Clasp - Northern Ireland) and Accumulated Campaign Service Medal (with 3 Clasps) Pair with Medallion, Badges, Boxes, Certificates, Etc. - Pte. R. Ashall, 7th / 10th (City of Belfast) Bn. Ulster Defence Regiment £1,250.00

You can view all of our current stock of medals by clicking on the links below: