Military badges added to the site (02/10/23)
2023-10-02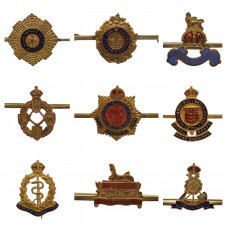 New badges added to the website this afternoon, mostly sweetheart brooches.
Sweetheart brooches regularly depict miniature versions of the regimental cap badges and / or the insignia of the military regiments. They get the name sweetheart brooches as they were often given to wives and girlfriends by the soldiers to wear whist they were away serving. They were also worn by the mothers, sisters and children of servicemen.
They have been commercially produced for just under 150 years, starting mass production in the late 1800's and greatly growing in popularity during the 1st world war. They ranged greatly in value with some made in precious metals set with valuable stones, while others were sold as souvenirs for servicemen to send to loved ones from the front.
They come in many forms and are still a popular collector's item to this day. You can view are full collection of sweetheart brooches and lapel badges here - SWEETHEART BROOCH COLLECTION

MB-24564 Arab Legion Headdress Badge
MB-24565 Black Watch (The Royal Highlanders) Enamelled Sweetheart Brooch/Lapel Pin Badge - King's Crown
MB-24566 Royal Army Ordinance Corps (R.A.O.C.) Silver & Enamel Sweetheart Brooch/Tie Pin - King's Crown
MB-24567 Royal Air Force (R.A.F.) Brass & Enamel Sweetheart Brooch/Tie Pin
MB-24568 George VI Royal Engineers Enamelled Sweetheart Brooch/Lapel Pin Badge
MB-24569 George V Royal Engineers Gold on Silver Sweetheart Brooch
MB-24570 Argyll & Sutherland Highlanders Sweetheart Brooch/Tie Pin
MB-24571 Australian Commonwealth Military Forces Rising Sun Sweetheart Brooch/Tie Pin - King's Crown
MB-24572 Royal Army Ordinance Corps (R.A.O.C.) Sweetheart Brooch - King's Crown
MB-24573 Wiltshire Regiment Brass & Enamel Sweetheart Brooch/Tie Pin
MB-24574 Scots Guards Brass & Enamel Sweetheart Brooch/Tie Pin
MB-24575 Royal Electrical & Mechanical Engineers (R.E.M.E.) Sweetheart Brooch/Tie Pin - King's Crown
MB-24576 Pioneer Corps Brass & Enamel Sweetheart Brooch/Tie Pin - King's Crown
MB-24577 Gloucestershire Regiment Brass & Enamel Sweetheart Brooch/Tie Pin
MB-24578 Royal Army Ordinance Corps (R.A.O.C.) Brass & Enamel Sweetheart Brooch/Tie Pin - King's Crown
MB-24579 Argyll & Sutherland Highlanders Brass & Enamel Sweetheart Brooch/Tie Pin
MB-24580 Royal Army Pay Corps (R.A.P.C.) Brass & Enamel Sweetheart Brooch/Tie Pin - King's Crown
MB-24581 George VI Royal Army Service Corps (R.A.S.C.) Enamelled Sweetheart Brooch/Tie Pin
MB-24582 Royal Army Medical Corps (R.A.M.C.) Brass & Enamel Sweetheart Brooch - King's Crown
MB-24583 Royal Army Ordinance Corps (R.A.O.C.) Enamelled Sweetheart Brooch - King's Crown
MB-24584 George VI Royal Engineers Brass & Enamel Horseshoe Sweetheart Brooch
MB-24585 Royal Navy Brass & Enamel Horseshoe Sweetheart Brooch - King's Crown
MB-24586 Royal Navy Enamelled Sweetheart Brooch - King's Crown
MB-24587 Royal Artillery Sweetheart Brooch/Lapel Pin Badge - Queen's Crown
MB-24588 Highland Light Infantry (H.L.I.) Mother of Pearl Sweetheart Brooch - King's Crown
MB-24589 Argyll & Sutherland Highlanders Mother of Pearl Sweetheart Brooch
MB-24590 Royal Artillery Mother of Pearl Sweetheart Brooch - King's Crown
MB-24591 Norfolk Regiment Mother of Pearl Sweetheart Brooch
MB-24592 Cameronians (Scottish Rifles) Mother of Pearl Sweetheart Brooch
MB-24593 Royal Army Ordinance Corps (R.A.O.C.) Mother of Pearl Sweetheart Brooch - King's Crown
MB-24594 Royal Scots Mother of Pearl Sweetheart Brooch
MB-24595 Royal Navy Mother of Pearl Sweetheart Brooch - King's Crown
MB-24596 Pair of Northamptonshire Regiment Collar Badges - King's Crown
MB-24597 University of Wales O.T.C. Anodised (Staybrite) Cap Badge
MB-24598 Liverpool University O.T.C. Anodised (Staybrite) Cap Badge